Understanding your Natural Gas Bill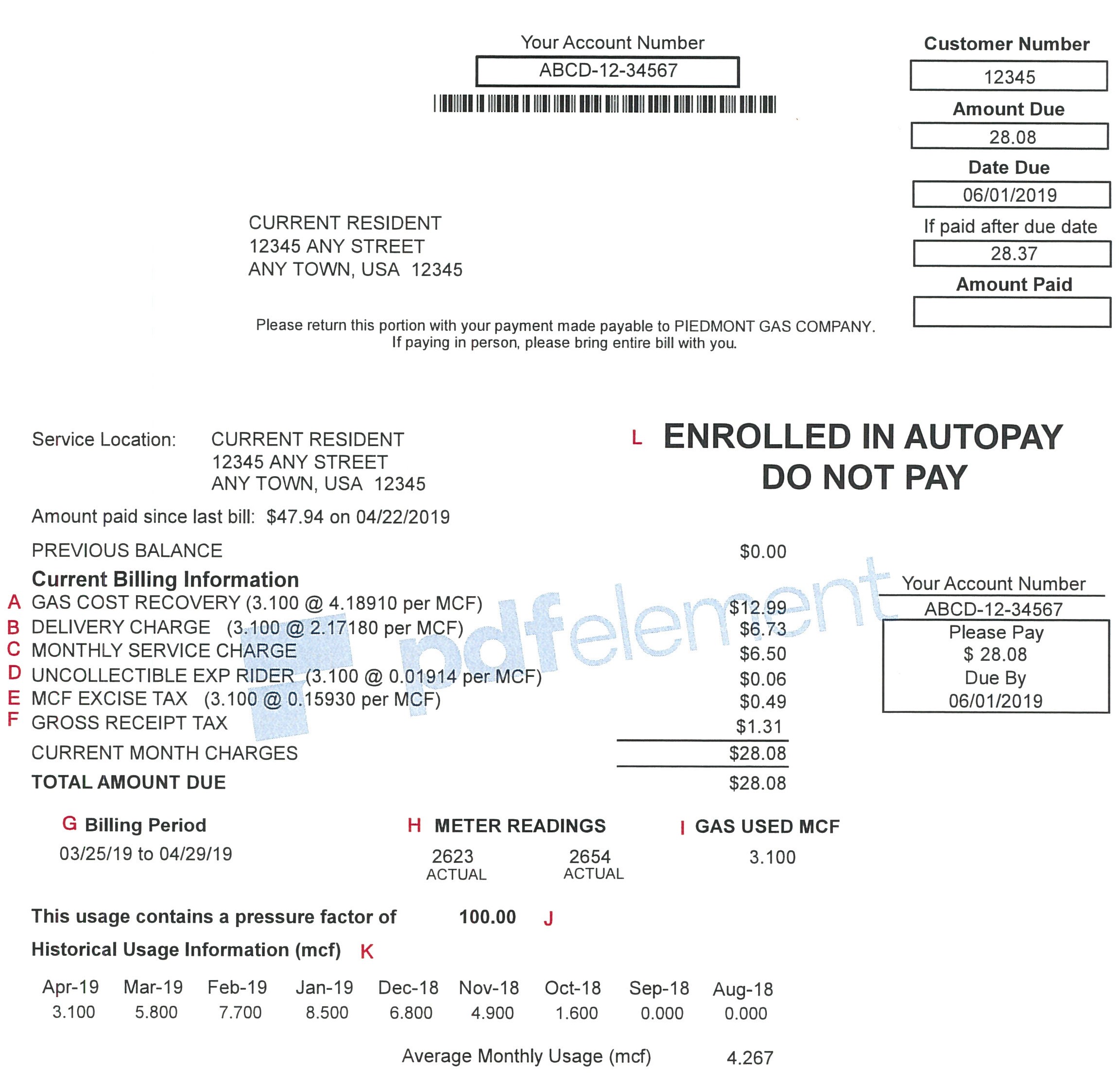 A - Gas Cost Recovery - the actual cost of natural gas that a local distribution company (LDC) pays to purchase natural gas your use. That cost is then passed through to you on a dollar-for-dollar basis with no profit to the LDC.
B - Delivery Charge - includes the cost of delivering gas to your home or business, storing gas and the operating costs of the gas distribution and pipline system.
C - Monthly Service Charge - covers many fixed costs to deliver safe and reliable natural gas. These costs include: natural gas mains and other infrastructure, labor to maintain the gas main and read meters, qualified people to respond to gas emergencies.
D - Uncollectible Expense Rider - a rider approved by the PUCO to offset gas supply-related uncollectible accounts expenses.
E - MCF Excise Tax - all gas consumed is subject to an MCF tax rider ro provide for the recovery of the company's excise tax liability under Section 5727.811, Revised Code.
F - Gross Receipts Tax - all charges billed by the company is subject to a reider at the company's effective gross tax rate to provide for the recovery of the company's gross tax liability under Section 5727.25, Revised Code. This rider is applicable to all charges billed by the company, including miscellaneous charges and all applicable rider rates, except that this rider shall not be billed to those customers statutorily exempted from the payment of gross receipts tax.
G - Billing Period - the dates that natural gas was consumed that you are being billed for.
H - Meter Readings - the reading on your meter at the end of your last billing period and at the end of the current billing period.
I - Gas Used - the amount of gas consumed during the current billing period in thousands of cubic feet. (1 MCF = 1,000 cubic feet)
J - Pressure Factor - a multiplier used to calculate the usage based on your meter readings and, if needed, to allow for more gas to flow through the meter.
K - Historical Usage Information - up to 13 months of previous consumption history for the account with a calculated average monthly usage.
L - Enrolled in Autopay - if you are enrolled in our Autopay Billing, your payment will be processed automatically on or about the 21st of the month.